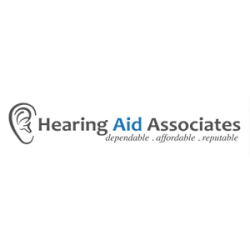 Latest posts by Matthew Favinger, M.S., F-AAA
(see all)
Without a doubt, the use of hearing aids reconnects those of us with hearing loss to the world around us and to our loved ones. Hearing aids instill in us a sense of confidence in our surroundings and improves our ability to communicate. Even so, traveling with hearing aids may be daunting. But – with a little preparation and following our guide, you'll find that traveling with hearing aids won't give you any more headaches than the long lines you'll find at security. Here are some of our tips for traveling with hearing aids.
As you're packing your bags, remember to bring an extra supply of batteries and your cleaning supplies. If you use rechargeable batteries, don't forget that recharging station! If your travels take you out of the US, be sure to check the electrical outlet requirements. You'll find an inexpensive adaptor for your recharging unit plug at any hardware or home goods store.
If you're traveling to a humid climate, it would be worth investing in a dehumidifying unit. These are simple to use: simply plug them in, place your hearing aids in the chamber, and let it sit overnight. This will help remove moisture from your hearing aids and ensure they work properly.
Bring Your Hearing Aids
for a Routine Check
If you plan to be away for awhile, it might be worth your while to bring your hearing aids in for a routine checkup. Our hearing specialists will give your hearing aids a thorough cleaning and make sure that they are in proper working order before you go on your journey! This is also good practice if you are heading to a location that may not have services for hearing aids.
Use Technology to Your Advantage
When you're in a busy airport, bus terminal, or train station, the sounds of the environment may be overwhelming. Before you go, check online to see if these transportation hubs offer any assistive listening devices (ALD). Telecoils are now a popular option for ticket counters. If your hearing aid has a telecoil feature, simply switch over and loop into the system.
You may want to prepare by bringing personal amplification devices, just in case. If your hearing aids are wireless, you may be able to utilize your smartphone as an amplification device. Ask us at Hearing Aid Associates about these ALD options.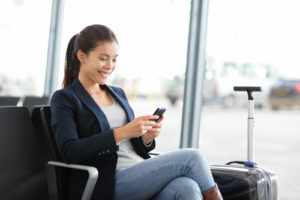 Many airlines offer the option of a text message or email to notify you any updates or changes in the travel plans. Opt in for these options, just in case the announcements over the speakers are difficult to hear.
Be sure to notify your flight attendant or bus driver or train conductor of your hearing needs. Announcements over speakers in these vehicles may be difficult to hear, especially against the background noise of the engine. Ask your attendants to deliver you a message directly at your seat if necessary.
If you are driving, then your hearing aids may offer features to help you hear in car noise. Additionally, many hearing aids offer Bluetooth connectivity, which allows you to stream phone calls directly to your ears to keep your hands free for driving!
Notify Your Hotel or Hosts
As you are making your reservation for your hotel, contact the concierge to notify them of your hearing needs. Many hotels offer ALDs and options for alarm clocks and fire alarms that light up or vibrate.
If you are staying at a loved one's house, be sure to remind them of your hearing needs. Also, if they have children or pets, you'll want to store your hearing aids up high where they are not reachable!
From all of us at Hearing Aid Associates, we wish you safe and happy travels!
Questions about traveling with your hearing aids?

Call Hearing Aid Associates today
(302) 934-1471