The Danish hearing aid manufacturer, ReSound, began their innovative work in 1943. In 2014, ReSound introduced the world to the first Made for iPhone hearing aid, the ONE, which changed the game for wireless hearing devices. ReSound's "Smart Hearing" solutions unify the latest in technological advancements with innovate hearing solutions. ReSound is committed to developing new products that provide solutions for people to rediscover hearing. With offices in 25 countries around the world, and distributors in more than 80 countries, ReSound is a growing global brand in hearing solutions.
ReSound ONE
Inspired by binaural hearing – the process in which people with normal hearing take in and process sounds around them – ReSound ONE hearing aids work in conjunction with each other. With microphones to receive sound from both behind and in front of the wearer, the ONE provides wearers with a richer experience of sound. ReSound calls these innovations "Surround Sound" and "Spatial Sense." Both situate the wearer in their natural surroundings, providing a rich tapestry of the audio landscape both in terms of focused sounds they want to wear as well as a sense of the background noise to keep them grounded.
Made for iPhone Hearing Aids
The accessibility offered to ReSound wearers extends to the latest in digital technology. The Made for iPhone feature gives wearers extraordinary access that was never before available. The ability to connect the digital hearing aid LiNX2 to an iPhone allows wearers to directly stream conversations to their hearing aids, which is especially useful for people who lead active lifestyles and move through a variety of environments. Additionally, wearers can adjust the volume and program features on their LiNX2 with an app on the iPhone. Geo-tagging locations and automatically adjusting pre-programmed settings give the LiNX2 wearer a seamless listening experience.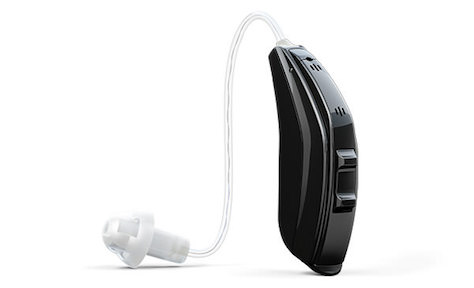 For particularly challenging noise situations, the iPhone may be used as an assistive listening device, so to speak. Using the iPhone's microphone, the wearer may place their phone near the person they are conversing with; through the ReSound LiNX2 app, the wearer can amplify the speaker's voice for better speech recognition. The LiNX2 also connects to home entertainment media systems as well as personal electronic devices, such as iPads and iPods. The ReSound LiNX2 hearing aid is ready for almost any environment, coated in iSolate, which has a proven track record of resisting water, sweat, and dirt that may interfere with the LiNX2's performance.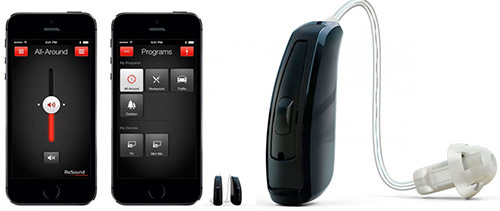 In terms of appearance, the LiNX2 is offered in two models, behind-the-ear and receiver-in-canal, both of which are discreet and customizable in accordance with the wearer's preference. Available in a wide range of colors, the LiNX2 treats a wide range of degrees of hearing loss and also offers tinnitus therapy treatment. Combined with the ease of access by wireless control via iPhone, the LiNX2 is recognized for its discreet and sleek design, which is preferred by some hearing aid wearers.
When ReSound's LiNX2 debuted at the Berlin IFA tech show, it began the push toward a more innovative, technologically-savvy hearing device that sheds its past as a clunky mechanism and paves the way to providing wearers accessibility to a new frontier.
Interested in ReSound Hearing Aids?
Contact us today to schedule a no-obligation hearing evaluation with our Audiologist Matthew Favinger. At your appointment, Matthew will assess your hearing and help you find the right hearing solution for you.
Contact Us
I was very happy with service I got there
Very thorough examination. Friendly environment.
Roxanne Knights
2019-04-10
Such great professionalism....I have made this office my go specialist for ears-!
They go out of there way to help my father with his hearing aids
So fare been treated fine awaiting hearing aids to come in.
Great service and friendly staff
Fair pricing, great to deal with
you owe it to yourself/family/friends/employer, to be able to hear and speak with clarity. I have been using hearing aids since 1987. I just moved to Worcester county, md. and have been concerned about finding the professional level of knowledge and service I have been use to in Baltimore, md. all of my doctors in Baltimore were at johns Hopkins hospital. I went there because they are young and on the cutting edge of health care. I feel the same way about matthew favinger, audiologist with hearing aid associates. this review was unsolicited and is my personal submission. james prow - Worcester cty., md./crystal river, florida